Project Summary
Facility:

 

Cypress Middle School #19 (Harold R. Rowe Middle School)
Construction Manager:

 

Karen Beverage
Roofing Company:

 JR Jones Roofing, Inc., Houston, TX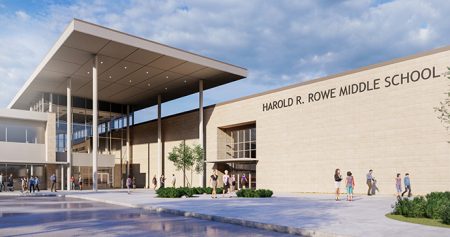 Nettles Construction Solutions, in collaboration with Satterfield & Pontikes Construction and PBK Architects, installed the complete Metal Decking scope (all roof areas) and a Siplast RT System LWIC Roof Deck on the new Harold R. Rowe Middle School.
Nettles Construction Solutions teamed with JR Jones Roofing and Siplast LWIC/Roofing manufacturer to install the Siplast Insulcel RT System.  The Insulcel RT System provides fire protection, prevents air infiltration, and bonds the total insulation system (EPS + LWIC) to the metal deck substrate. Specifically, the Insulcel RT System combines LWIC and Insulperm (EPS) with RT pellets (a blend of bitumen and polymeric binder in the form of a black pellet coated with a release agent). RT Surface Treatment is used as a bond-enhancing component in semi-adhering Paradiene 20 TS systems directly to the surface of the Insulcel LWIC. This total process provides the needed R-Value, slope to drain and high roof membrane performance for years to come. 
LWIC offers the most durable system to prevail against weather extremes. For example, in 2015 Nettles constructed a LWIC roof system for a large high school in Corpus Christi. In 2017, Hurricane Harvey hit the Corpus Christi area, damaging many buildings, but the high school with the LWIC roofing remained undamaged and intact. LWIC provides great wind uplift ratings, and is sturdy and dependable. For this reason, LWIC is a preferred roofing option for buildings such as schools and hospitals in the Gulf Coast region.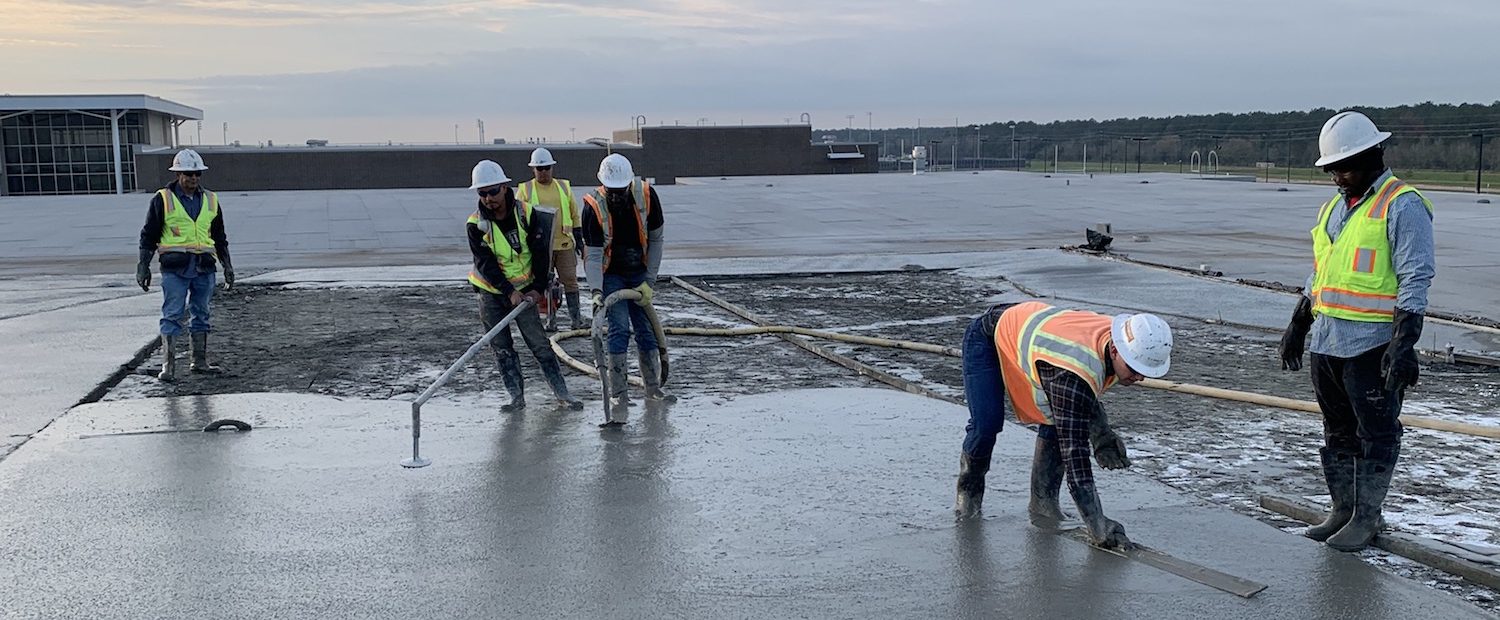 In addition to its outstanding wind uplift ratings, LWIC is the best environmental solution because the roof deck and built in R-value are left in place when re-roofing. Only the membrane needs to be removed and replaced, thereby saving on insulation removal and replacement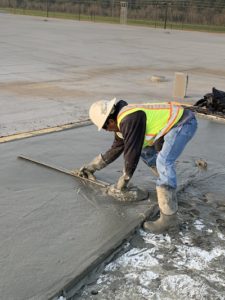 costs and thousands of cubic feet of removed insulation in the local land fill.
Finally, LWIC is the most economical and cost-effective choice. In the short term, it is competitive in pricing with tapered iso board roof systems. In the long term, LWIC offers the best value in commercial roofing systems because of its re-roofablity (no tear-off system). No other roofing system comes close to LWIC in terms of TCO.
Nettles completed the roof system on Rowe Middle School in Dec. 2019, and it will open in Fall 2020.
"The project went really well. PBK Architects, the architectural firm, and Satterfield & Pontikes Construction, the general contractor, were great to work with, and the project was well coordinated and managed. There were no issues on the project, and it was completed on schedule."
If you are considering the best options for commercial roofing systems, LWIC is an excellent choice. Nettles Construction Solution is the premier company for LWIC roof deck systems across Texas, Oklahoma, and Louisiana.
Contact us today to discuss how LWIC may be perfect for your next construction project.