Gypsum Underlayment & Elevated Concrete
What Is Gypsum Underlayment?
Often referred to as gypsum concrete or cementitious underlayment, it is also known by the brand names Gypcrete or Levelrock. The product is a mixture of gypsum plaster, Portland Cement, and sand. It is most commonly used for fire and sound rating floor/ceiling assemblies in commercial wood-framed construction.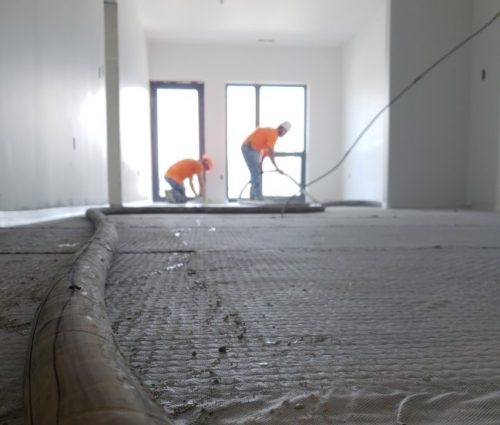 Why Use Nettles Construction
for Your Gypsum Underlayment
This is the most common use of gypsum concrete in construction.  It is an integral part of many floor/ceiling assemblies used to meet code- mandated fire and sound ratings.  The product is also well suited as a substrate for floor goods, providing a smooth flat surface free of joints.
Underlayment for Radiant Floor Heating Systems
Gypsum underlayment is a perfect solution for radiant floor heating systems. The product flows around and encapsulates the underfloor tubing and provides a solid floor foundation.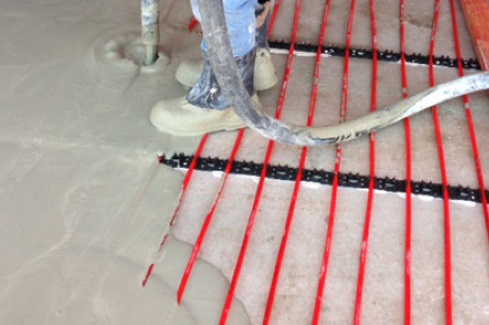 No one wants a slanted or uneven floor. Gypsum concrete can be used to fix out-of-level or uneven floors. Our professional installation teams can smooth-out a rough floor and provide a level surface.
While asbestos is not used in construction today, many commercial floor products before 1990 contain the hazardous material. We have a process to encapsulate existing asbestos with gypsum concrete that renders the asbestos harmless. The process is fast and more cost-effective than asbestos abatement.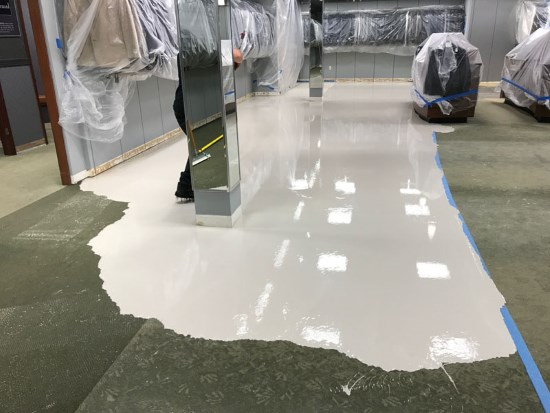 We're Experts in Gypsum Underlayment
Nettles Construction Solutions is one of the largest and most respected subcontractors and installers of gypsum underlayment in the country. We work throughout Texas including the Houston, San Antonio, Dallas, Austin, Fort Worth, and Corpus Christi markets. We work throughout Oklahoma including the Oklahoma City, Tulsa, Norman, and Broken Arrow markets.
If you have a gypsum underlayment project in Texas or Oklahoma and are looking for a subcontractor or installer, give us a call.
Have Questions about Gypsum Underlayment or Elevated Concrete?
For more information, contact one of our gypsum underlayment and elevated concrete specialists:
Sasa Scherzer
Regional Sales Manager
Gypsum Underlayment & Elevated Concrete Division