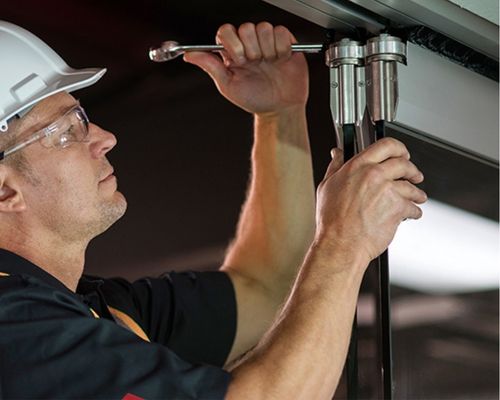 Moveable walls are critical to the effective use of space in schools, hotels, offices, and nearly any other commercial facility. These foldable panels go by many names–operable walls, folding partitions, sliding partitions, room dividers, air walls, folding walls, and sliding walls just to name a few–but all serve the same purpose of separating a room in a way that creates a lasting impression about a space. Because they have such a huge impact on the look, feel and acoustic control in the spaces they divide, it is important to keep your operable partitions in good working order.
Wear and tear and sometimes abuse can decrease the functionality of a movable wall. Over time and with use, panels can get stuck or drag on the floor, operable seals can break, operators can get stripped, carriers can get worn and even ceiling tracks can have issues. Each of these problems can be repaired, enabling the operable partition to function like new again.
Common Types of Repairs on Movable Walls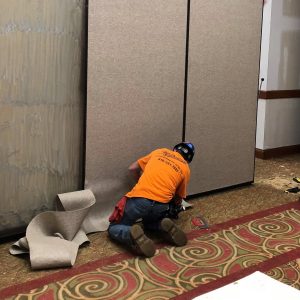 Sound control panel: Acoustical control desired with operable partitions typically requires mechanical seal systems that engage to the floor to help block sound and stabilize the panels. There are different methods of lowering the seal. If this mechanism breaks while the seal is down, you normally cannot move the wall. If the mechanism breaks while the seal is up, you can move the wall, but the acoustical control won't work causing sound to get under the panel.
Carrier system: The top of the panels have a carrier system that rides in a track and allows the wall to roll smoothly. If the carrier system is broken or becomes loose, the panels will start to drag. The track itself could also get dirty and prevent the carrier system from working properly.
Aesthetic repairs: Over time, panels can get ripped stained, or become dated. Nearly any type of panel can be refinished or recovered to make them look brand new.
Pass doors: The doors within a panel can sag, stop latching and even become inoperable.   In some cases, you can still use the door, but it does not work properly. In the worst case, the door becomes completely inoperable.
The WestPro Operable Panel Repair Process
The WestPro team has been working with operable partitions since the mid-1980s. Our experience spans the spectrum of all panel repairs. We provide service to all brands of partitions throughout the entire Midwest, including Missouri, Kansas, Arkansas, Oklahoma, and Nebraska.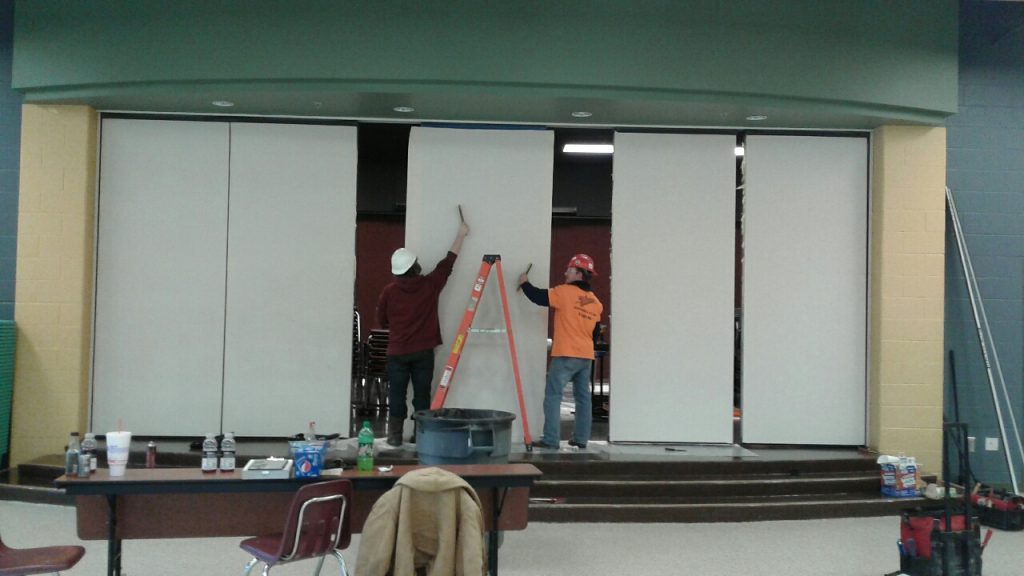 WestPro can repair nearly any brand of operable partition, including (but not limited to) Hufcor, Modernfold, Panelfold, Kwik Wall, Moderco, and Advanced Equipment. We stock thousands of parts in our Kansas City warehouse that will take care of most problems.
If your operable partition is in need of general service, repairs, or recovering, our team will inspect the installation at no charge to determine the problem and the best repair process. We also provide emergency service; if the partition needs to be repaired quickly, we can come to make immediate repairs. Helping our customers is our highest priority, so we will try our hardest to work within your company's time frame to provide efficient and thorough repairs at a reasonable cost.
Service Plans Can Keep Operable Partitions in Optimal Shape
Westpro can also implement a service plan or maintenance schedule for movable walls. With a service plan in place, our team will inspect the installation 1-2 times a year to perform preventative maintenance and service on each panel and fix problems before they even manifest. No matter what your specific needs, our team will work with you to keep your partition products working and looking as good as they can.
Learn more about our operable partition products and services here.