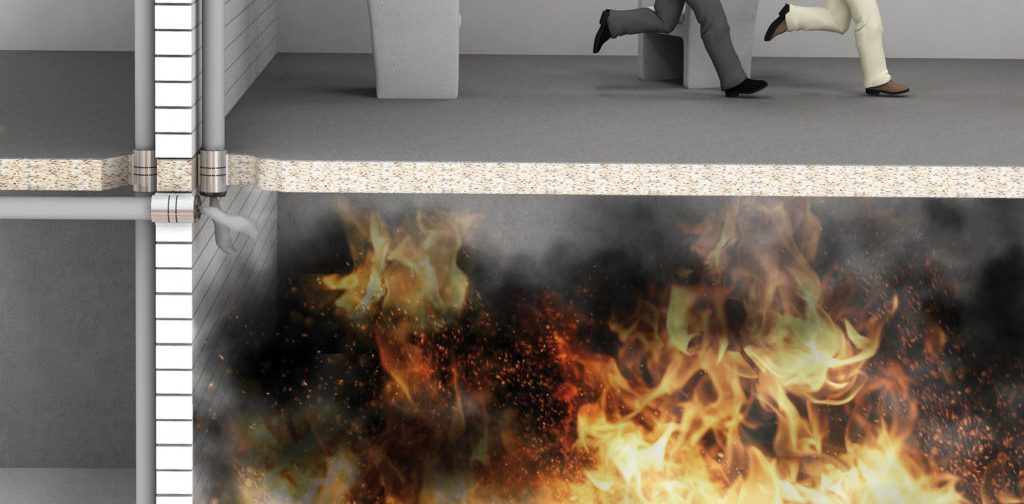 Building codes mandate that all multi-family wood-frame construction projects must achieve a one-hour fire rating (a one-hour separation from floor to ceiling) in the floor-ceiling assemblies. However, there are more than 125 different ways to achieve this rating using different combinations of materials including rock, plywood, lightweight concrete, etc.
At Nettles Construction Solutions, we use a gypsum cement mixture to achieve this fire rating quickly, efficiently, and cost-effectively. Often, our gypsum underlayment floor-ceiling assemblies include a sound mat to achieve the required sound rating–for more information, check out our article on sound mats.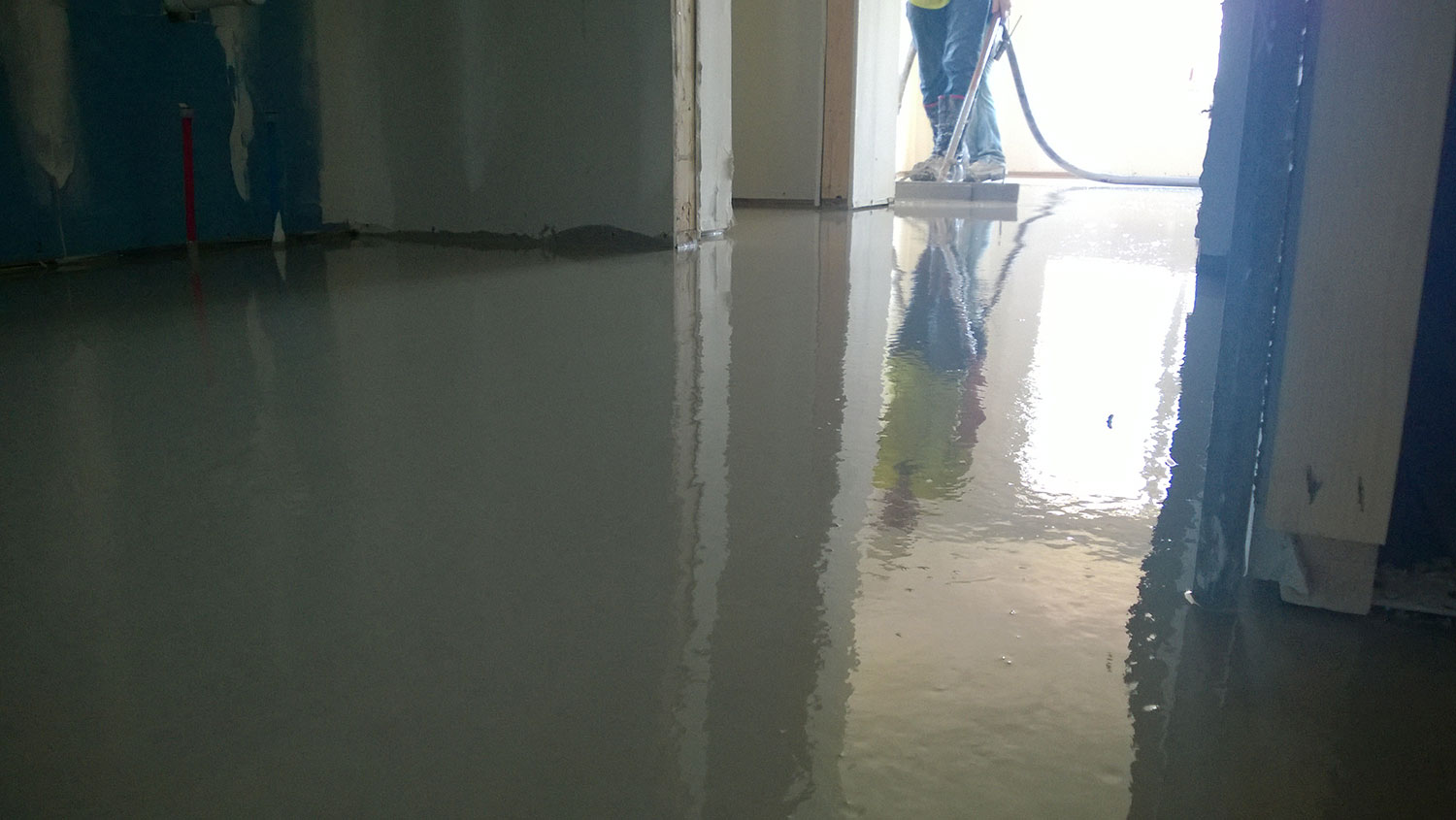 What is gypsum underlayment? How does it work?
Gypsum cement, a Plaster of Paris product, is a mixture of gypsum, cement, and sand. It is the typical building material used for floor underlayment in wood-frame, steel, and concrete construction, and can provide fire ratings, sound reduction, cover radiant heating tubes, and is commonly used in floor leveling.
The team at Nettles Construction Solutions can pour up to 15,000 square feet at 3/4 thickness of gypsum underlayment in a day. Our team sets up a pump outside on the construction site, mixes the gypsum powder with water and sand, and can pump interior surfaces from several hundred feet away. Once poured and raked so the underlayment is level and smooth, the material hardens and can support trade traffic in as little as 24 hours.  Finished flooring can then be installed in as little as 5 days depending on the temperature/humidity and thickness of the poured material.
Advantages of gypsum underlayment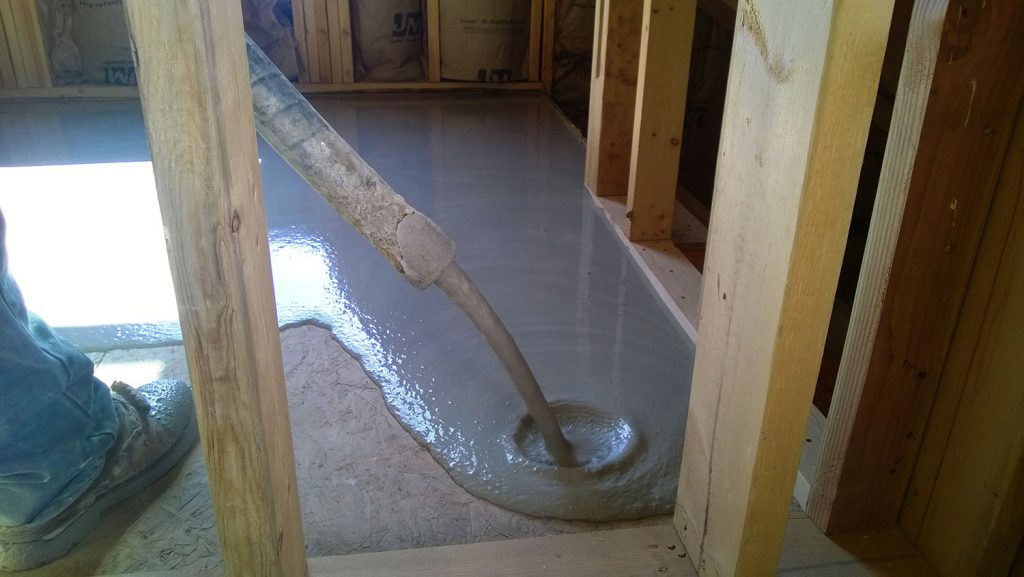 Along with achieving the required one-hour floor/ceiling fire rating (typically, a ¾ inch layer of gypsum concrete will achieve this rating), there are a variety of other advantages to gypsum over other mixtures.
Because of the speed and ease with which gypsum underlayment can be poured, it is the most efficient material for floor-ceiling assemblies with large square footage. It is also an attractive option for residential buildings since it doesn't contain any chemicals or toxic substances that could cause illness (gypsum, in fact, can already be found in many food and dental products). Plus, since gypsum is a ceramic, it insulates the room by preventing heat from bleeding through the floor.
Nettles services
Nettles can handle any size floor underlayment job, from 600 square feet to 250,000 square feet and everything in between. We have multiple gypsum underlayment products, including USG Levelrock and AccuCrete, with applications that range from radiant floor heating systems to asbestos encapsulation. We can cover or replace lightweight concrete from old projects, insurance claims, or just bring a sub-floor back to the condition needed for a new finished floor.
Our gypsum services include:
Sound mat underlayment systems
Floor leveling
Flowable fill
Moisture mitigation
Radiant heat tubing
Asbestos encapsulation
Polishable and wear surfaces.
Floor/Ceiling Fire Rated Assemblies
The field team at Nettles is OSHA-certified, e-verified, and union, which means they know safety and their staff has been working in this trade for a long time.
Talk to an expert about how to use gypsum underlayment to meet your fire rating requirements.