Project Overview
Facility:

Bishop North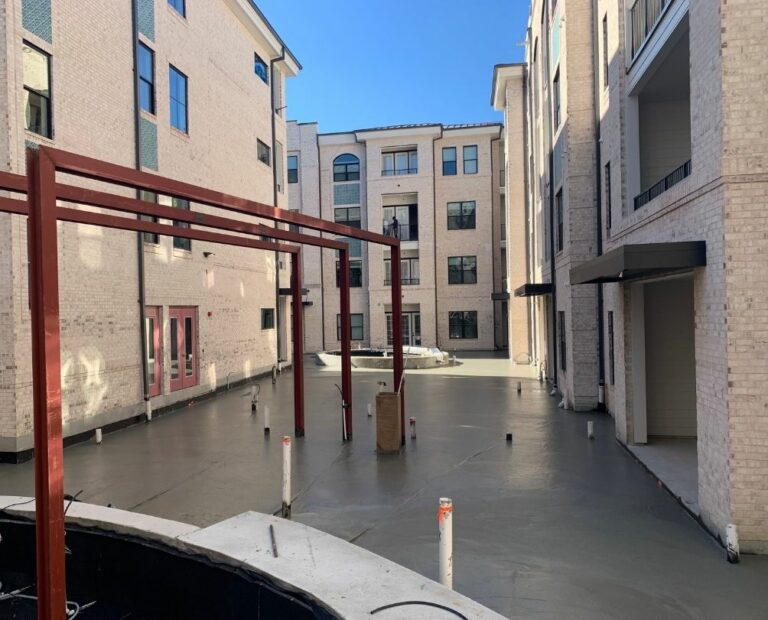 Nettles Construction Solutions provided turnkey Elastizell Engineered Fill Low-Density Cellular Concrete (LDCC) for the installations as designed. The courtyard/plaza included approximately 653 CY of Elastizell Engineered Fill (EF) (30pcf +/- 3/ 50psi min). The fill had varying depths, on concrete slab, with Concrete Masonry Unit (CMU) walls, planters, etc. which were installed prior.
The challenge for the designer was to provide a usable platform above a working parking garage. They wanted to be able to have a highly trafficked plaza for the residence without causing structural problems due to heavy concrete or fill.
The Nettles LDCC system takes advantage of the Elastizell EF mixture of Portland Cement, water and Elastizell preformed foam. The foam creates a structure of discrete air cells within the concrete, increasing volume, reducing density and improving flowability. We were able to provide an increase of elevation in some areas approximately four feet while reducing the density of fill by approximately 78%. This reduction in density of fill translates to a major reduction in bearing weight while providing the raised plaza deck.
"There are many advantages of using Low-Density Cellular Concrete (LDCC) where you need to support heavy pedestrian traffic while minimizing the vertical loads on a raised structure. With an experienced team the project was easy to setup and install allowing multiple trades a usable pathway in a short amount of time."