Nettles is an industry leader in cellular concrete engineered fill, and our expert team is one of the largest and most respected installers of low-density cellular concrete (LDCC) in the country. Also known as controlled low-strength material (CLSM or LD-CLSM), low-density cellular concrete is a lightweight, highly flowable, and flexible solution for a wide variety of engineered fill needs.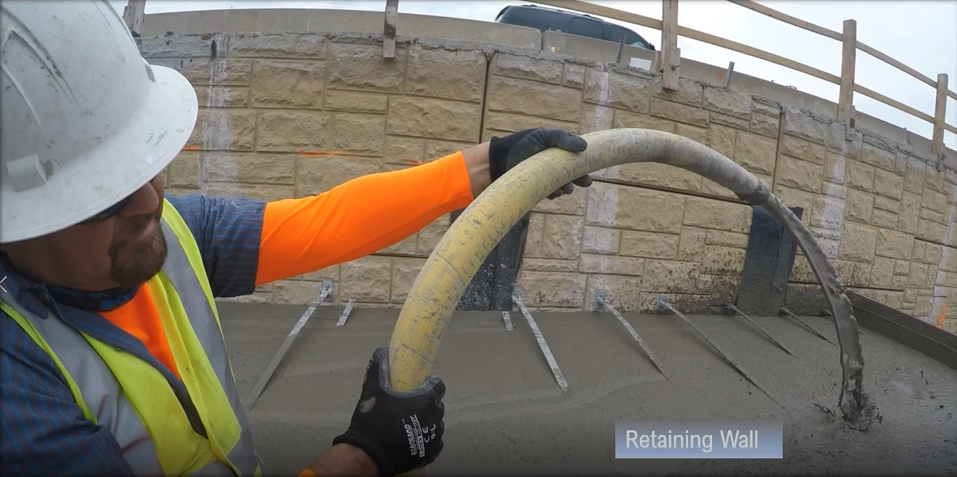 What is CLSM?
LD-CLSM, also called cellular concrete, engineered flowable fill, flowable fill,  controlled-density fill, flowcrete, foamcrete, and liquid dirt, is a self-compacted cementitious material used primarily as a backfill in place of traditional compacted fill.
Like all cellular concrete, LD-CLSM is manufactured by mixing Portland cement, sand, fly ash, water and pre-formed foam to create a hardened material with less strength and density than traditional compacted concrete. Typical LD-CLSM ranges between 50 -1200 psi (traditional concrete can reach up to 3000-4000 psi).
Advantages and Applications of LD-CLSM
The foam used in manufacturing LD-CLSM creates a structure of discrete air cells within the concrete, which increases the volume, reduces the density, and improves the flowability of the material. Since no compaction is required, it flows steadily out of the pump outlet and can be pumped at substantial distances, making placement easier in confined or high-traffic areas.
Other advantages of LD-CLSM include its lighter weight, fire resistance, thermal and acoustical insulation, and relative cost-efficiency, making it an ideal solution for a variety of engineered fill applications. The Nettles team uses LD-CLSM for tunnel and pipe backfill, MSE and RSS wall backfill, landslip repair, utility insulation, soil stabilization, annular space grouting, and more.
Looking for a CLSM Contractor, Subcontractor, or Installer in Texas, Oklahoma, or Louisiana?
Nettles Construction Solutions has a team of experts in the applications and installation of LD-CLSM. We operate throughout Texas (including Houston, San Antonio, Dallas, Austin, Fort Worth, and Corpus Christi), Oklahoma (including Oklahoma City, Tulsa, Norman, and Broken Arrow), and Louisiana (including New Orleans, Baton Rouge, and Shreveport).
To learn more about how LD-CLSM may be the perfect fit for your next engineered fill project or to find a LD-CLSM contractor, subcontractor, or installer, contact us today.